Teradek Bond II: Complete oplossing voor video over mobiele netwerken.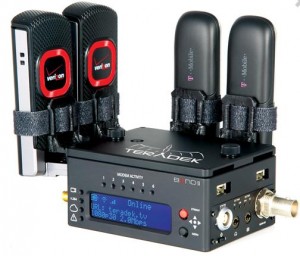 De Bond II is een geïntegreerde bonding oplossing voor het versturen van video over 3G en 4G netwerken. Met de Bond II spelen afstanden of beschikbaarheid van een internetverbinding geen rol meer. Monteer de Bond II op de camera en start met streamen. Dankzij de ingebouwde hardware H264 encoder is het stroomgebruik laag en de video kwaliteit hoog (tot 10Mbps 1080p30). De complete unit weegt 350 gram en er kunnen maximaal 6 USB modems aangesloten worden. Er kan ook gebruik gemaakt worden van een USB wifi adapter of USB to lan adapter.
Om gebruik te maken van de bonding mogelijkheden is een Sputnik server met een eigen IP adres nodig. De Sputnik server software is een gratis download voor uw eigen linux server, is beschikbaar op Amazon EC2 in de cloud of als dienst te huur bij HDC.
Busan Sailboat Race Coverage from Teradek on Vimeo.
Teradek Bond Footage Reel from Teradek on Vimeo.
De als gratis en betaalde Clouddienst Core maakt het mogelijk meerdere Teradek bond 's te beheren en de streams eenvoudig naar de juiste CDN of decoder te sturen.

Teradek Core on Tapp TV from Teradek on Vimeo.
VIDEO INPUT
HD-SDI, SD-SDI: BNC
SUPPORTED RESOLUTIONS
1080i 50/59.94/60 1080p 23.98/24/25/30 1080PsF 23.98/24/25 720p 50/59.94/60 576p (HDMI) / 576i (HD-SDI) 480p (HDMI) / 480i (HD-SDI)
VIDEO CODEC
Compression Algorithm: Baseline, Main and High Profile H.264 Main and Baseline profiles Bit Rate: 250 Kbps to 10 Mbps Built-in Video Scaler and Deinterlacer
VIDEO STREAMING SUPPORT
Network Protocols: TCP/IP, UDP, HTTP, DHCP, NTP, SSL, IGMP> Transport Protocols: RTP, RTSP, MPEG-TS**
AUDIO
Audio Compression: AAC-LC, MPEG Layer 2 Embedded Audio Input Analog Line or Mic in, adjustable gain Headphone output, adjustable volume
INTERFACES
Feature-rich WebUI for configuration and control OLED LCD Display with joystick Navigation buttons On/Off and Reset Switch Micro SD Six Powered USB 2.0 host ports
NETWORK
Ethernet: 10/100BASE-T WiFi: Dual Band 802.11 a/b/g/n MiMO Bonded USB Modem support
POWER
2 Pin Lemo Power input Nominal Power Consumption: 3W + 2.5W (max) per USB device Power Input: 6-28V DC