Teradek Bond II: Complete oplossing voor video over mobiele netwerken.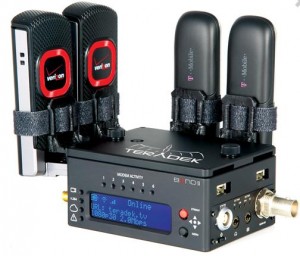 De Bond II is een geïntegreerde bonding oplossing voor het versturen van video over 3G en 4G netwerken. Met de Bond II spelen afstanden of beschikbaarheid van een internetverbinding geen rol meer. Monteer de Bond II op de camera en start met streamen. Dankzij de ingebouwde hardware H264 encoder is het stroomgebruik laag en de video kwaliteit hoog (tot 10Mbps 1080p30). De complete unit weegt 350 gram en er kunnen maximaal 6 USB modems aangesloten worden. Er kan ook gebruik gemaakt worden van een USB wifi adapter of USB to lan adapter.
Om gebruik te maken van de bonding mogelijkheden is een Sputnik server met een eigen IP adres nodig. De Sputnik server software is een gratis download voor uw eigen linux server, is beschikbaar op Amazon EC2 in de cloud of als dienst te huur bij HDC.
De binnenkort beschikbare Core server maakt het mogelijk meerdere Teradek bond 's te beheren en de streams eenvoudig naar de juiste CDN of decoder te sturen.