Live Streamen zonder PC
Met de Teradek VidiU kan iedereen vanaf iedere plek live streamen naar internet met een druk op de knop. De VidiU kan aangeloten worden op een camera, een videomixer of ieder ander apparaat met een video uitgang.
VidiU integreert volledig met een aantal bekende streaming diensten zoals Ustream, Youtube Live en Livestream  maar kan ook streamen naar iedere andere provider.
Met de gratis app voor IOS en Android streamt VidiU naar ieder apparaat via wifi. De VidiU is een eigen wifi accespoint zodat er zonder extra wifi apparatuur al live meegekeken kan worden op het locale netwerk.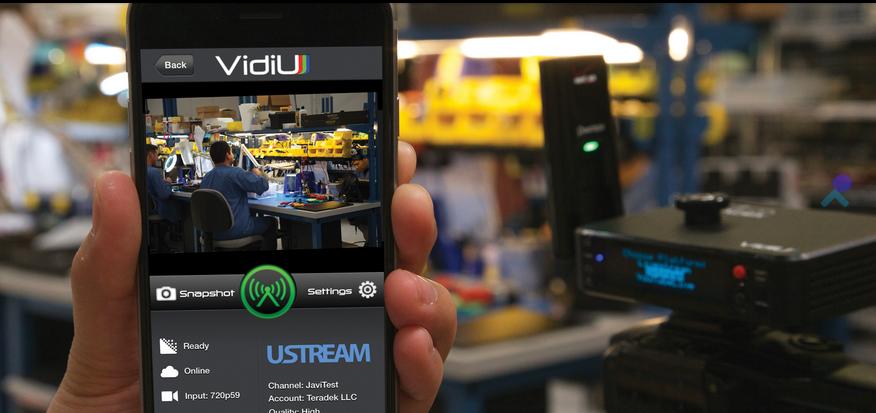 Overal Live zonder kabels
VidiU streamt via MIMO Wifi, een netwerkaansluiting of met een enkele USB 4G dongle zodat er overal gestreamd kan worden. De interne accu kan de VidiU ongeveer een uur van stroom voorzien.
Technical Specifications
VIDEO INPUTS
SUPPORTED INPUT RESOLUTIONS
1080i 50/59.94/60
1080p 23.98/24/25/30
720p 23.98/24/50/59.94/60
576i/p
480i/p
SUPPORTED RESOLUTIONS
When Widescreen is set to Yes (16:9):
Full HD: 1920 x 1080
HD: 1280 x 720
High: 960 x 540
Medium: 736 x 414
Low: 480 x 270
Mobile: 360 x 200
When Widescreen is set to No (4:3):
Full HD: 1440 x 1080
HD: 960 x 720
High: 720 x 540
Medium: 560 x 414
Low: 368 x 270
Mobile: 272 x 200
*Note: 30fps support for NTSC. 25fps support for PAL.
SUPPORTED VIDEO BIT RATES
Full HD: 5.2 Mbit/s
HD: 2.2 Mbit/s
High: 1.4 Mbit/s
Medium: 796 Kbit/s
Low: 446 Kbit/s
Mobile: 273 Kbit/s
SUPPORTED AUDIO BIT RATES
Full HD: 192 Kbit/s
HD: 128 Kbit/s
High: 96 Kbit/s
Medium: 96 Kbit/s
Low: 48 Kbit/s
Mobile: 48 Kbit/s
VIDEO CODEC
Compression: Base/Main H.264
Bit Rate: 250 Kbps to 5 Mbps
STREAMING
Transport protocol: RTMP
API level integration: Ustream, YouTube Live & new Livestream
AUDIO
Audio compression: AAC-LC
Embedded audio input
Analog line or mic-in
Headphone output
PHYSICAL
Dimensions: 3″W x 4″D x 1″H
Weight: 5oz
INTERFACES
OLED display with joystick navigation buttons
On/Off and reset switch
Powered USB 2.0 host port
NETWORK
Ethernet: 10/100BASE-T
WiFi: Dual Band MIMO 802.11 a/b/g/n
USB 3G/4G modem support
POWER
DC power input: 6-12V
Internal rechargeable lithium-ion battery
Nominal power consumption: 3W
Nominal power consumption while charging : up to 10W